Problems and prospects of the circulation of biomedical cell products in the Eurasian Economic Union
Evgeniya A. Sharkovskaya

Orenburg Institute (Branch) of The Kutafin Moscow State Law University, 50, ul. Komsomol'skaya, Orenburg, 460000, Russian Federation
Abstract
Biomedicine has a great integration potential according to regulatory acts in the Eurasian Economic Union (EAEU). Moreover, one of the most relevant areas in modern biomedicine is regenerative personalized medicine using biomedical cell products. The article discusses various approaches to the legal regulation of the circulation of biomedical cellular products in the EAEU — a national and integration approach. As part of the study of the national approach, the author compares the current legislation of Armenia, Belarus, Kazakhstan, Kyrgyzstan, and Russia, while also identifying similar and different features. There is a common licensing procedure for conducting activities on the circulation of biomedical cell products, an increased degree of quality control, efficiency and safety, taking into account the ethical side of the issue, and emphasis on respect for human rights. The differences lie in the formal legal aspects, a heterogeneous understanding of the nature and content of biomedical cell products. The integration approach is illustrated by regulatory acts adopted at the EAEU level; their shortcomings are highlighted. Only import and export issues are adequately resolved from the entire life cycle of biomedical cell products at the EAEU level. However, there are no standards for a single market for cell products. For comparison, the author refers to the experience of the European Union in regulating the circulation of cell-based products and focuses on free movement, a centralized registration procedure, ethical requirements, and good clinical practice. According to the results of the article, the author identifies such basic problems of legal regulation as the lack of unification of the conceptual items, registration procedures, and procedures for applying to patients. Solving these problems will allow the market for biomedical cell products to grow rapidly and provide a qualitative breakthrough in the treatment and prevention of diseases. It is proposed to establish either a mechanism for verifying biomedical cellular products in the territory of the EAEU member countries in order to simplify registration procedures or create a unified registration procedure. The global goal is to develop a single standard for the
legal regulation of the circulation of not only cellular products, but also all advanced medical devices in general.
Keywords:
biomedical cell product, biological material, biomedicine, regenerative medicine, unification, harmonization, registration procedure, common market
Downloads
Download data is not yet available.
References
References
Ancans, Janis. 2012. Cell therapy medicinal product regulatory framework in Europe and its application for MSC-based therapy development. Frontiers in immunology 3: 253. https://doi.org/10.3389/fimmu.2012.00253.
Chen, Allen Kuan-Liang, Reuveny, Shaul, Oh, Steve Kah Weng. 2013. Application of human mesenchymal and pluripotent stem cell microcarrier cultures in cellular therapy: achievements and future direction. Biotechnology advances 31 (7): 1032–1046.
Danilovich, Mariya V. 2017. Silk Road Economic Belt: Peculiarities of Project Implementation in the EAEU.Available at: http://elib.bsu.by/bitstream/123456789/169620/1/danilovich_2017_Actual_probl_II_V4.pdf (accessed: 05.09.2019). (In Russian)
Harvey, Alison, Brand, Angela, Holgate, Stephen T., Kristiansen, Lars V., Lehrach, Hans, Palotie, Aarno, Prainsack, Barbara. 2012. The future of technologies for personalised medicine. New biotechnology 29 (6): 625–633.
Ignatov, Mikhail E., Serova, Maria A. 2016. Some aspects of legal protection of inventions in the field of pharmaceuticals and medicine in the Eurasian Patent Office. IS. Promyshlennaia sobstvennost' 8: 32–40. (In Russian)
Il'ina, Mariya Iu. 2015. The single innovation space as a factor in the reindustrialization of the economies of the EAEU member states. Vestnik Instituta ekonomiki RAN 4: 172–188. (In Russian)
Ivanov, Gennadiy V. 2018. Priority trends in the formation of a single scientific and technical space and services sector of the EAEU member countries. Bol'shaia Evraziia: Razvitie, bezopasnost', sotrudnichestvo 1: 283–284. (In Russian)
Ivanova, Svetlana. A. 2016. Current trends of integration cooperation within the EAEU. Nauchnyi vestnik 1: 54–64. (In Russian)
Khrebtov, Aleksandr V. 2018. Formation of a single Eurasian innovation system as a driver for the development of Grand Eurasia. Bol'shaia Evraziia: Razvitie, bezopasnost', sotrudnichestvo 1: 353–354. (In Russian)
Milashevich, Elena A. 2017. Export of medical services in Belarus: development trends and incentive direction. Minsk, Belarusskaia navuka Publ. (In Russian)
Nagai, Sumimasa. 2019. Flexible and Expedited Regulatory Review Processes for Innovative Medicines and Regenerative Medical Products in the US, the EU, and Japan. International journal of molecular sciences 20 (15): 3801. https://doi.org/10.3390/ijms20153801.
Ovanesian, Ruben A. 2004. Medical ethics and bioethics in healthcare in Armenia: facts, hypotheses, thoughts. Armianskii meditsinskii referativnyi zhurnal 3: 118–127. (In Russian)
Romano, Marco, Fanelli, Giorgia, Albany, Caraugh, Jane, Giganti, Giulio, Lombardi, Giovanna. 2019. Past, Present, and Future of Regulatory T Cell Therapy in Transplantation and Autoimmunity. Frontiers in immunology 10: 43. https://doi.org/10.3389/fimmu.2019.00043.
Sargsian, Shushanik A., Mirzoian, Aram R., Manukian, Arevik A., Unanian, Simon R., Gzoian, Edita G. 2019. Scientific cooperation between Armenia and the EAEU: reality and development trends. Nauka i nauchnaia informatsiia 2 (1): 6–18. https://doi.org/10.24108/2658-3143-2019-2-1-6- 18. (In Russian)
Symanovich, Alla A. 2019. Obtaining and characterization of biomedical cell products based on hepatocytes and hepatogenic differentiated mesenchymal stem cells, Abstract of PhD Thesis in Medicine. Minsk, Minskii nauchno-prakticheskii tsentr khirurgii, transplantologii i gematologii. (In Russian)
Vasil'ev, Stanislav A., Osaveliuk, Aleksey M., Burtsev, Aleksandr K., Suvorov, Georgiy N., Sarmanaev, Salavat Kh., Shirokov, Aleksey Iu. 2019. Problems of legal regulation of the diagnosis and editing of the human genome in the Russian Federation. Lex russica 6: 71–79. (In Russian)
Zograbyan, Tigran A. 2018. Legal regulation of medical activity in historical and modern sources of Armenian law. Vestnik Rossiisko-armianskogo universiteta. Gumanitarnye i obshchestvennye nauki 6: 42–58. (In Russian)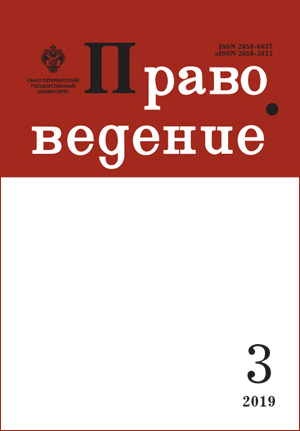 How to Cite
Sharkovskaya , E. A. (2019). Problems and prospects of the circulation of biomedical cell products in the Eurasian Economic Union. Pravovedenie, 63(3), 429-439. https://doi.org/10.21638/spbu25.2019.305
Articles of "Pravovedenie" are open access distributed under the terms of the License Agreement with Saint Petersburg State University, which permits to the authors unrestricted distribution and self-archiving free of charge.